World Christianship Ministries Quick Fast Ordination Page



(559) 297-4271

Become an ordained minister almost immediately with authority to do weddings, marriage by World Christianship Ministries. Fast, Quick, Rapid, Express ordination by World Christianship Ministries. Need ordination today? Yes, you can be ordained by today and have a PDF copy of your Ordination Certificate in hand within a few hours.

Visit our Home Page for links to our many pages of information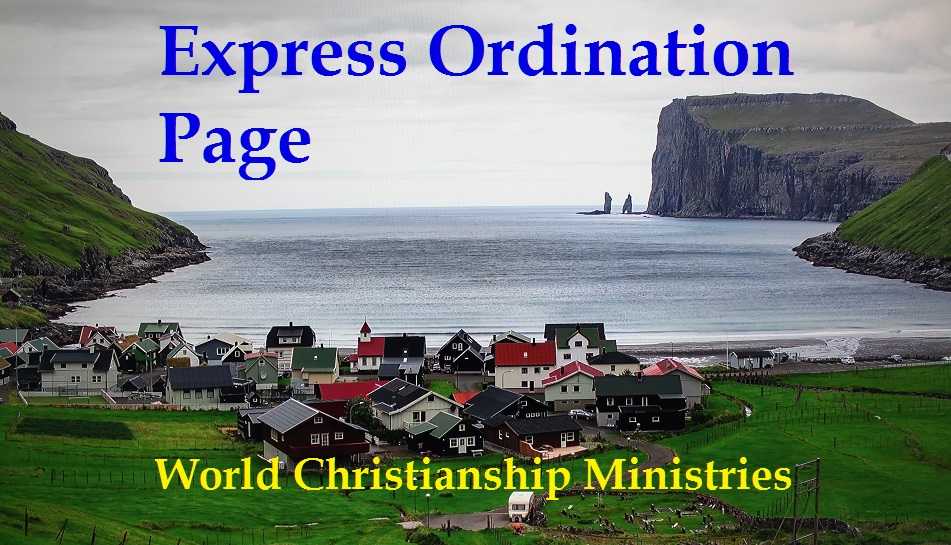 Quick Ordination Page - Be Ordained Today if Necessary
Questions? Call: (559) 297-4271





Application, Bonus Items, 11 Pages of information





Tour World Christianship Ministries Most Important Pages


Need Ordination Right Away???
If you have a quick need for ordination such as a wedding ceremony coming up almost immediately, we can Ordain you the same day we receive your Faxed in application, Called in application, or E-Mailed in application. Then we send a PDF copy of your Ordination Certificate to your E-Mail address that same day so you have something in hand quickly. The rest of your material and certificates can then be mailed out in 1-2 business days. If you need a copy of your Ordination Certificate the same day, you MUST tell us that on your application and include an E-Mail address.
Clicking the Blue "Apply Now" Bar Above will open the following:
1. Ordering Form and Application
2.

Bonus Coupons

that you can apply to

FREE ITEMS AND CERTIFICATES !!!
3. General Information Letter Explaining about being Ordained in a Simple way.
4. Coupon to

Choose the

Color

of

Parchment Paper

to use on your Certificates.
5. General brief information about all the items on the Ordering Form
6. Examples of several of our Certificates
Your Brief Application and Ordering Form, and Bonus Item Coupons can be:
1.

Called in

by Phone to: (559) 297-4271 (or)
2.

FAXed in

to: (559) 297-4223 (or)
3.
Mailed in to

:
World Christianship Ministries
PO Box 20030
South Lake Tahoe, CA 96151 (or)
4.

E-Mailed in

: You can also send us your application by attaching the Application, Ordering Form, and Coupons to our E-Mail address if you use the PDF format. After filling out the forms, save them as a PDF file then attach that file to our
Our E-Mail Address:

wcm@wcm.org
If you would rather we mail an Application Packet to your home or business, Click the Green Button below.
© World Christianship Ministries LLC