Best site online for Seniors and Veterans to get ordained, World Christianship Ministries is a Senior and Veteran friendly website with 36 years of simple fast Christian ordination experience for doing wedding or marriage ceremonies and beginning your own ministry. You will be able to do legal marriage ceremonies as a minister ordained by us, and earn money to supplement your retirement or in addition to your current job. Perform weddings for your friends and family, or begin your own marriage ministry. Visit our

Weddings Page

to learn more about how easy it is to do marriage ceremonies. Doing marriages is an excellent way to supplement your income. Do marriages at homes, in gardens, parks, the beach, the mountains, almost anywhere. World Christianship Ministries gives you the authority to do all Christian ceremonies and begin a independent ministry if you wish. Wedding ceremonies can be done by working out of your home. Retired men and women have an excellent opportunity to supplement your income by doing marriage ceremonies. World Christianship Ministries has the most "hands on" experience of any site on the internet for doing wedding ceremonies. The administrator of WCM has done over

2,500 marriage ceremonies himself

.
Ordination for Seniors | Retired | Veterans | Become Ordained Minister | Earn Money doing Weddings | Senior Friendly, Veteran Friendly Ordination | Retired | Want to do Wedding for | family member | friends | son | daughter | granddaughter | grandson | niece | nephew | sister | brother | Men and Women in Their 50's, 60's, 70's, 80's |


Home Page



Ordination for Seniors & Veterans
World Christianship Ministries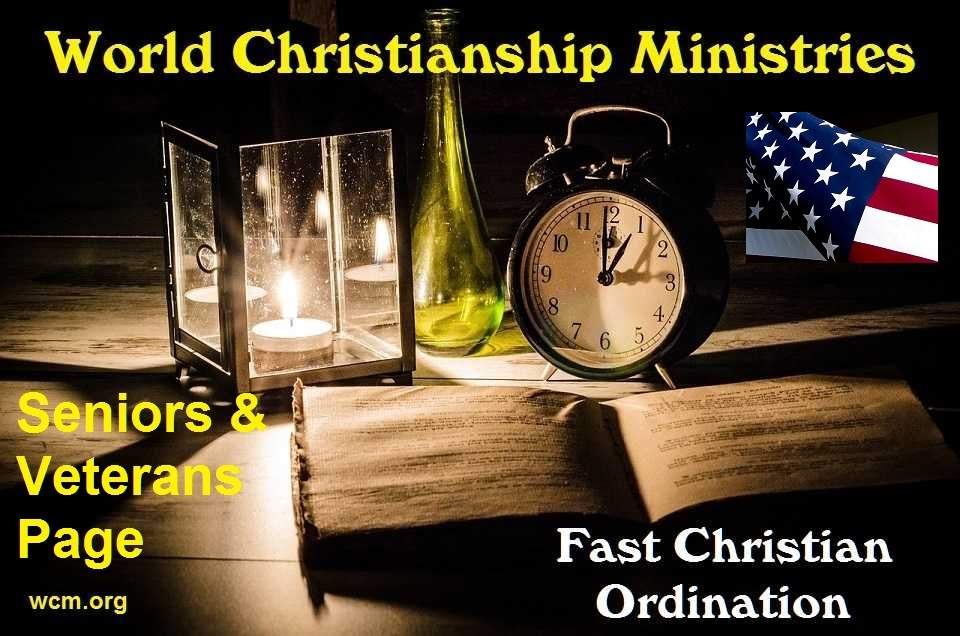 Do Wedding ceremonies on the side to supplement your retirement income. If you are in your 50's | 60's | 70's | 80's and retired or semi retired there is a good opportunity for you to do wedding ceremonies on the side as an Ordained Minister. World Christianship Ministries has extensive experience in doing weddings in homes, gardens, parks (local, county, state and federal), halls, small churches, the ocean, even at peoples place of business, almost anywhere. Many people only wish a very short ceremony. Imagine being given $50, $100, $200 or more for only a few minutes of your time. World Christianship Ministries has written a "straight to the point" handbook called the Marriage Ministers Handbook. This Handbook explains in straight talk how to do simple weddings. If you feel that earning extra money doing weddings on the side, or full time, might be of interest to you, we suggest you get a copy of this Handbook so you can see how easy doing weddings can be. Read more about this handbook on World Christianship Ministries
Handbook Page
.
Learn more about Being Ordained by World Christianship Ministries and doing weddings by taking our Guided Site Tour which starts on our
Home Page (Click the large red Guided Site Tour Button)
, or
Click Here
then follow the RED Guided Site Tour buttons at the top of each page. The tour takes you through many of the important pages of this site.